Bhakti Rose Collective September 2019 Content - Free
Enjoy these free tasters of the Bhakti Rose Collective content including a golden dome protection meditation guided by Katie and a nervous system rebalancing chai recipe. 
Balancing The Nervous System
The perfect alternative to coffee, chai is appearing in various forms everywhere from the supermarket to your local café menu. In India traditional chai is a concoction of fresh ground spices, black tea and lots of sugar brewed for a long time, made with milk and poured with great skill by a 'chai wallah' to aerate the final drink (which is utterly delicious). As well as the authentic version many modern twists are on the chai scene, some of which have healing benefits. Yoga's sister science of Ayurveda offers some wonderful herbs and spices to give your chai a little extra zing. Try this authentic recipe and experiment with your own additions.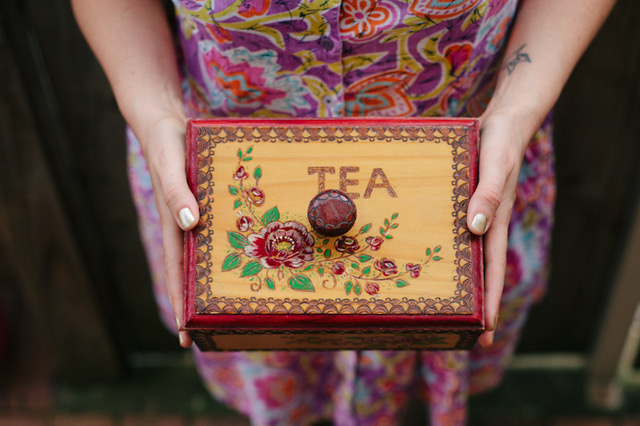 Traditional Chai Recipe
Ingredients 
2.5 cm piece ginger, grated
1 teaspoon black pepper, crushed
1 star anise 'flower'
2 cloves
4 cardamom pods
1 small piece cinnamon bark
2 tablespoons maple syrup or agave syrup
1 black tea bag (organic if possible) (optional – leave it out if you prefer a non-caffeinated brew)
1 litre boiling water
1 litre soy milk (or other milk of your choice, if using dairy milk organic is best)
Method
In a pestle and mortar crush and blend all the ingredients except the tea bag and water. The mix should make a sticky, fragrant paste. 
Boil the water in a saucepan, add the paste and teabag and simmer for 30 minutes. Add milk and bring to just before boiling point. Strain and drink. You can keep this chai in the fridge for a couple of days and reheat a cup full as and when needed. 
Additional ingredients to experiment with according to taste and need: 
Ashwaganda – nervous system rebalance 
Turmeric – a 'heal all' herb turmeric is anti-inflammatory and boosts immunity. If you can get it fresh, grate turmeric into your chai before straining. If not a pinch of the dry powder will do. 
Basil leaves – ideally use 'tulsi' which is the Ayurvedic holy basil but if you can't get tulsi ordinary basil is good too.
Lemon rind – adds freshness and zing for a lighter brew. Don't add lemon juice because this will curdle your chai, use grated zest instead.
Rose petals – add a floral perfume to your chai, and look so pretty!
Liquorice root – Detoxifying and soothing liquorice is another herb with many healing benefits; it has quite strong flavour so only add a pinch. 
To understand more about why the use of Ashwaganda herb in chai helps with nervous overload subscribe to the Bhakti Rose Collective and watch the September video.
Sadhana and Bhakti by Katie Rose (Manitsas)
This is a live recording from a recent Women's Circle with Katie. Please start in a comfortable sitting position we do a few body orienting breath stretches before Katie talks briefly on the subject of conscious spiritual practice and devotion in daily life 🙏🌹
Golden Dome Meditation by Katie Rose (Manitsas)
Listen to my  'golden dome' guided meditation / relaxation recording to protect your energy body in difficult situations. Enjoy! ✨
Yoga Nidra Elements by Katie Rose (Manitsas)
Listen to my Yoga Nidra Elements guided recording for the ultimate deep relaxation. The perfect way to unwind  ! ✨