Bhakti Rose Collective May 2020 Content - Free
Namaste,
This month I interview my dear friend Felicia Robey who is an Ayurvedic practitioner, yoga teacher and all round wonder-woman. In the interview we talk about the idea that 'slower is faster' - how when we take time to regenerate and heal we become more efficient and capable as we show up in the world. We discussed: 
How the shock of this time in history is being integrated within us and how we can support one another 
How she works with blending herbs and using her intuition to create Ayurvedic remedies (that really work!) 
Controversial discussion about vegan and vegetarian diet and Ayurveda's roots 
How we hold on to our stories in traumatic times and how we're all experiencing trauma to some degree right now - the choices we have to be well or get sick 
And a whole bunch more. I hope you enjoy the interview please do be in touch if you have any questions or comments. 
Enjoy friends, sending so much love to you at this time. I'm here for you if you need me. Please remember there are two free offerings ongoing you can join me in regularly - a weekly supportive zoom call with my partner where we hold space for sharing and supporting each other this is on Tuesday nights at 8pm www.CalmLion.com.au for more details. As well as the usual 10am 1st May zoom call where we meet as women in circle. Links and details are on my website www.BhaktiRose.com.au.
Katie x
May - Slower is Faster
Learn about the benefits of living a slower pace of life
Bhakti Rose Collective - Notes.pdf
Bhakti Rose Book Club
We have just posted a couple of new book recommendations to get you inspired on your ayurveda and yoga wellness journey. Click here to read Katie's reviews and for links. As always we love your feedback so please share your insights from these books at the Bhakti Rose Facebook page.
Bonus Content - Deep Yoga, Ayurveda, Community Values and Sacred Living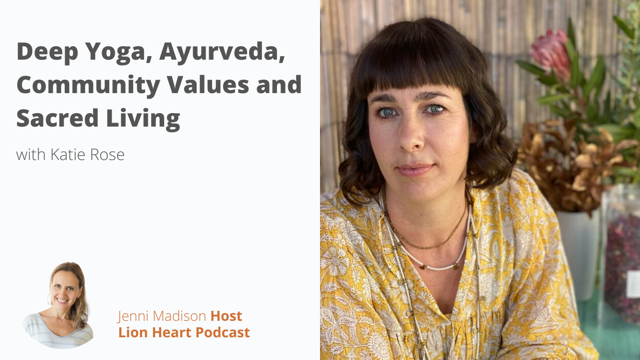 Listen here as Katie shares how she manages her sacred practices as a single mother with four young boys during the Covid-19 global lock down and topics also discussed:
• the true and deep meaning of yoga
• the richness that rituals and mindfulness will bring into your everyday life
• a return to natural and community living through these challenging times
• the synergy between Ayurveda, ancient Aboriginal wisdom and the natural cycles of creation
• how Mother Earth speaks to us and our sense of wellbeing through her elements and the changing seasons
• and so much more!